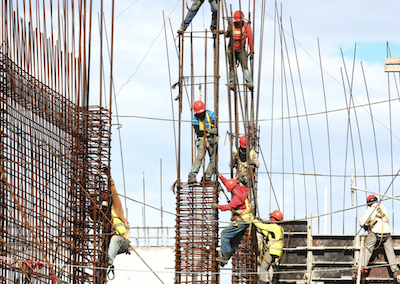 QUEZON CITY – Representative Paul R. Daza (1st District, Northern Samar), Vice Chair of the House Committee on Appropriations, called for stronger regional development post COVID-19.
Daza, a former governor of Northern Samar, lawyer and economist, underlined the need to learn from the lessons of COVID-19, where urban areas had been heavily impacted. "Life in cities almost stops during a pandemic so the new normal should see robust regional development specifically in areas away from the traditional urban centers," Daza explained.
He said that the principle of Balik Probinsya is good but will be risky to implement because it could aggravate unemployment and poverty in the countryside. He added that jobs need to be created in the provinces first if the government wants to allow these workers to return and such an approach requires massive planning, investment, and infrastructure development.
Daza emphasized the timeliness in shifting the development paradigm, which is biased toward self-sustaining communities. An example of such an approach is an eco-township model—where work, industries, schools, markets, health and recreational facilities are nearer to homes, enabling more equitable distribution of opportunities and wealth.
He added that the future could see even more aggravating pandemics not to mention climate-related disasters and such an approach will minimize if not prevent expansive and long-term lockdowns. The legislator explained that there could be minimal economic slowdown, panic, and fear during pandemics in self-sustained towns because people and local governments are working together more cohesively and necessities like homegrown food is always within reach.
He opined that such a shift requires a corresponding change in many if not all spheres of governance such as legislation, capacity building, and institutional development. He also underlined the critical role of local governments, which are, naturally, the front-liners during emergencies and disasters.
Daza therefore urged the government to begin the ground work toward a new normal through an economic stimulus package that will push a strong regional infrastructure- and agriculture-driven spending, prioritizing the vulnerable poor.
He underscored that Malaysia, the Philippines' ASEAN neighbor with a population of around 32 million only, is funding an economic stimulus package valued at RM250 billion (about PhP2.9 trillion), estimated at 18% of its GDP in 2019. By contrast, the Philippines, with a population of around 109 million, is planning to spend about P1.17 trillion, which is around 6.3% only of its GDP.
Daza also urged the executive department to work closely with Congress particularly that this is a crucial time and there is naturally an expectation for greater transparency and cooperation in government as well as forward-looking legislation.
Daza is a graduate of BA in Economics/Business (cum laude) and Juris Doctor from the University of California in Los Angeles.
-###-