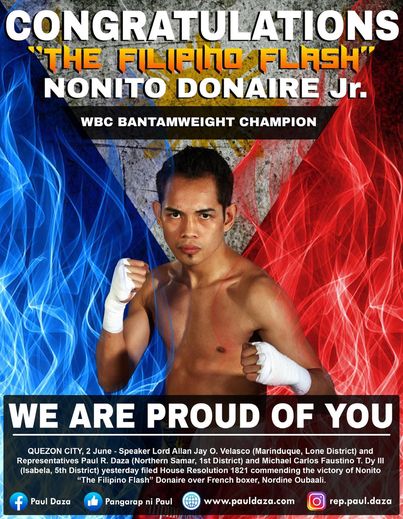 QUEZON CITY, 2 June –Speaker Lord Allan Jay Q. Velasco (Marinduque, Lone District) and Representatives Paul R. Daza (Northern Samar, 1st District) and Michael Carlos Faustino T. Dy III (Isabela, 5th District) yesterday filed House Resolution 1821 commending the victory of Nonito "The Filipino Flash" Donaire over French boxer, Nordine Oubaali.
The victory was for a World Boxing Council (WBC) Bantamweight belt—through which Donaire also made history. The victory has made him, 38 years old, the oldest world champion ever in the bantamweight division.
The fight, held last May 29 at Carson City, Los Angeles County, California, has once again demonstrated Donaire's legendary boxing prowess by spectacularly dethroning defending champion Oubaali through a knockout in the fourth round.
Speaker Velasco said this win, "celebrates the Filipino courage, grit, and resilience, upending the 3 to 1 odds predicted against him by foreign boxing experts."
Meanwhile, Daza has described it as an inspiring moment for all Filipinos, "especially at this time of great challenges. Indeed, no matter the circumstances for many people right now, we need to celebrate these victories, big or small."
For his part, Rep Dy, Chairman Committee on Youth and Sports Development, appreciates that all throughout the fight, "Donaire exuded dedication, sportsmanship, and humility. These are traits that must be emulated by the Filipino youth."
Meanwhile, it did not escape the eyes of millions of boxing aficionados and viewers all over the world that Donaire did not waste the opportunity to spread a message of peace by wearing a blue shirt emblazoned with "Stop Asian Hate."
The solons see this as a demonstration of not only the boxer's courage but also his willingness to use his fame and platform to contribute to the global call against any form of discrimination.
With this win, The Filipino Flash has become a three-time bantamweight world champion. It raised his record to 41 wins with 27 knockouts and six defeats.
###